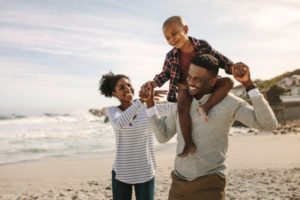 Summer has arrived and it's time to enjoy all that it brings! Whether it's an exciting travel destination, time on the beach, or enjoying a family barbeque, the warmer months bring many picture-perfect moments. However, many people don't feel comfortable flashing their smiles for a camera. A survey done by OnePoll found that almost 70% of Americans try to hide their teeth due to feeling insecure about them. One of the top reasons for feeling unhappy about them was discoloration and staining. Read on to learn why summertime is the perfect time to get one of the easiest cosmetic dental treatments: professional teeth whitening!
#1. Summer Vacation
Many people wait until the summer months to finally get away from the constant grind of working and get in some vacation time. It can be as simple as a long road trip with friends or an overseas trip to a country you've always wanted to visit. No matter where or what you do, there is one thing guaranteed: your family and friends are sure to take lots of photos and videos to capture these memories for a lifetime. By getting an easy and convenient cosmetic dental treatment like professional teeth whitening, you can smile with ease for each and every adventure!
#2. Special Occasions
Summertime brings many special occasions to enjoy and celebrate. You may be planning to attend a graduation, go to a family reunion, or join your friends for an annual trip. You don't want to miss these special moments. Unfortunately, if your smile is stained or yellow, it can make you shy away from certain events. By getting an in-office whitening treatment or taking home custom-made trays with special bleaching gel to whiten your teeth at home, you can count on your smile to be at least eight shades brighter for all these memorable moments!
#3. Smile with Confidence
If you have tooth discoloration, you are not alone. Over time, many people's pearly whites can become stained over time. Genetics, consuming darkly-pigments beverages (like coffee, wine, and tea), and using tobacco products can take a toll on the teeth over the years. You may have even tried over-the-counter whitening products to brighten your smile but to no avail. Fortunately, professional teeth whitening is powerful enough—yet completely safe—to lift those stains and help restore youthful-looking pearly whites. By receiving this cosmetic treatment, you can grin confidently with the people you care about not only this summer but for the rest of the year!
Summer is the perfect time to make long-lasting memories. Professional teeth whitening ensures you will have a bright, beautiful smile to make it a time you'll never want to forget.
About the Author
Dr. George Keanna and his team at Natural Dental Services are eager to help you keep your smile healthy and beautiful throughout every season of the year. With over 40 years of experience, he is dedicated to not only helping improve your oral health but your overall well-being! He provides a comprehensive range of services, including cosmetic dental treatments like professional teeth whitening. To schedule an appointment, visit his website or call (505) 292-8533.