Dentures – Albuquerque, NM
Rebuilding Your Smile in a Beautiful Fashion
If you have gaps in your grin, you aren't alone; millions of Americans are missing at least some of their teeth, and many wonder what their options are when it comes to replacing them. Here at Natural Dental Services, Dr. George Keanna is thrilled to offer dentures, one of the most reliable tooth restoration solutions around! Keep reading below to learn a little more about what dentures in Albuquerque are capable of, or feel free to give us a call today to schedule your consultation.
Why Choose Natural Dental Services for Dentures?
Friendly Dentist with Years of Experience
Insurance and Financing Options Available
Beautiful Restorations You'll Love Showing Off
Who Is a Good Candidate for Dentures?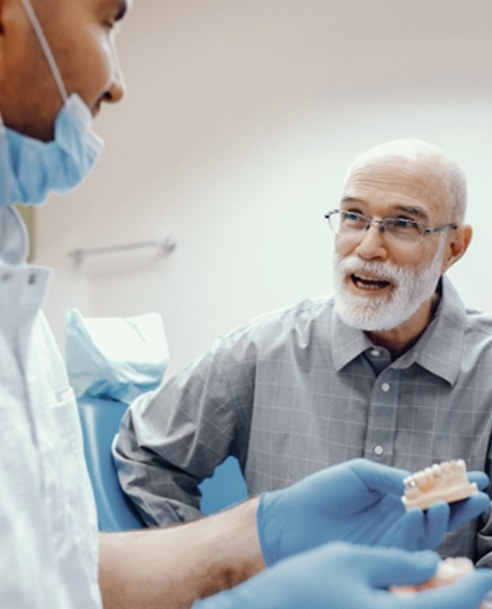 In most cases, patients who are missing anywhere from a few teeth to one or both arches are eligible to receive dentures; however, you'll still need to come to visit Dr. Keanna for a consultation beforehand. During this visit, he will inspect your situation thoroughly to determine which type of denture best suits your needs, as well as if there is any preparatory work necessary. This is quite important; we wouldn't want to outfit you with dentures if you're already dealing with an issue like gum disease or tooth decay that would affect their future integrity!
Types of Dentures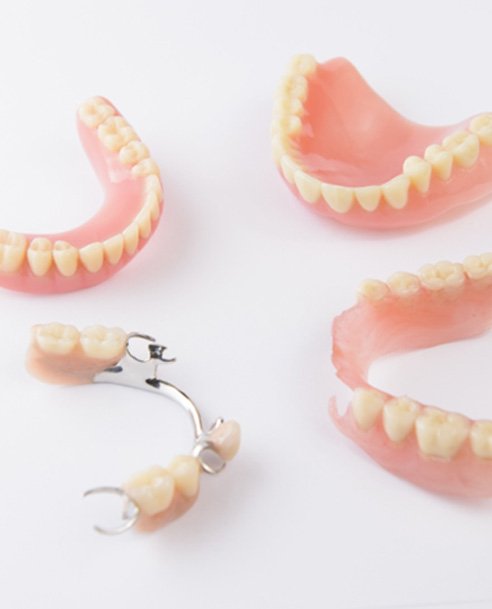 There are different types of dentures, all of which are designed with a patient's specific needs in mind. Once you've attended your consultation and Dr. Keanna has determined that dentures would be a good solution for your missing teeth, he'll suggest one of the following types based on your situation:
Partial Dentures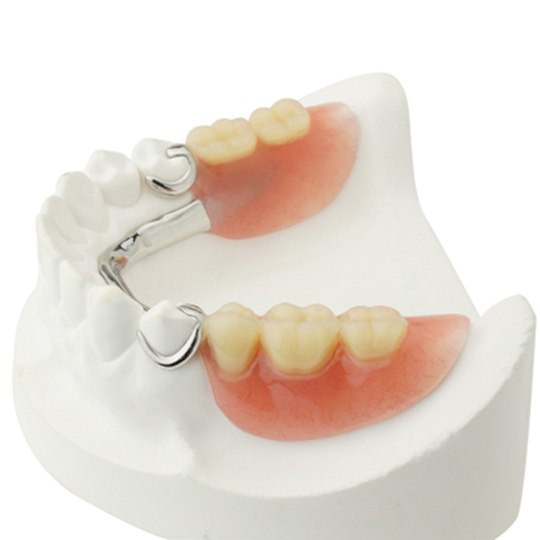 Partial dentures are optimal for patients missing some missing teeth, rather than one or both of their arches. This is done through the expert use of a clasp that's attached to the remaining natural teeth. A gum-colored base is also utilized, as well as customized prosthetic teeth that closely resemble your natural pearly whites.
Full Dentures
Full dentures are used to replace an entire arch of missing teeth, and they can be used on one or both arches. They also employ a discreet, gum-colored base like partial dentures, coupled with replacement teeth. However, since there aren't any remaining adjacent teeth to use for attachment, they rely on a combination of adhesives, suction, and muscle control to stay in place.
Implant Dentures
Dr. Keanna can also utilize dental implants to provide you with a restoration that's truly built to last. Rather than relying on fitting clasps to adjacent teeth, or adhesives and constant adjustments, implant dentures combine the ingenuity of dental implants with the efficacy of dentures. Titanium posts are first embedded into your jaw, where they'll fuse with it—and once things have healed up, you can be outfitted with your customized restoration and unlock several unique benefits, such as impressive stability and less unwanted movement.
The Benefits of Dentures
Dentures are customized specifically for your smile—meaning that you're getting a detailed restoration that will look and function magnificently! That said, dentures are also accompanied by several notable benefits including:
Dentures are considered cost-effective
They can effectively restore your ability to bite and chew
Dentures are fully customized for each patient's specific needs
They're natural-looking and beautiful
Dentures are easy to clean, and your dentist can help you maintain and adjust them
They can last for 10 years or so with proper care