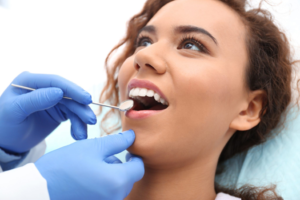 Dental fillings are one of the go-to options for treating cavities and tooth decay, and for a long time, dentists have relied on using metal alloys to craft them. These fillings, referred to as amalgam fillings, certainly have their usefulness—but they're also very noticeable and awkward, given their unnatural appearance! However, in recent years tooth-colored fillings made from composite materials have become a popular alternative to these amalgam fillings. Keep reading to learn more about why you shouldn't think twice about opting for one of these over a traditional metal one.
The Problems with Amalgam Fillings
Amalgam fillings have been used in dentistry for quite some time; generally composed of a combination of metal alloys including silver, gold, zinc, copper, mercury, and others, they've been one of the go-to solutions for restoring compromised teeth because of their notable durability. However, they're unfortunately also quite noticeable due to their dark grey color that conflicts with the rest of your natural smile.
Another disadvantage to these fillings is that they tend to make teeth much more sensitive to hot and cold temperatures, due to the materials used. This means that the fillings have the potential to expand and eventually crack, warranting further treatment.
Finally, it's also worth stating that in recent years, some patients have become hesitant toward the notion of having mercury placed inside their mouths because it's known to be potentially toxic.
Why Tooth-Colored Fillings Are the Better Option
Tooth-colored fillings have none of the problems of amalgam fillings and sport several notable advantages over them, including:
Natural-looking – the fillings can be made to seamlessly blend in with your smile; people won't even be able to tell that you have a filling, which isn't the case with amalgam fillings.
Improved texture – It's considerably easier to shape and sculpt these fillings into a realistic tooth surface appearance.
Better adhesion – Composite materials adhere naturally to tooth tissue, meaning that these fillings are easier to place, and your dentist can preserve more of your natural tooth structure during placement.
Restored strength – Teeth restored with these fillings typically receive almost all of their natural strength returned.
Potentially safer – Not only are these fillings free of mercury or other metals that might cause harmful allergic reactions, but there have also been no known allergic reactions to composite materials.
If you're hoping to upgrade an existing amalgam filling, or you're simply in need of a brand-new filling to address a decayed tooth, you should consider a tooth-colored filling; they're proven to be more beautiful and arguably better suited for restoring compromised smiles!
About the Author
Dr. George Keanna has proudly served the dental needs of the Albuquerque, NM area for several years now, and he'd be more than happy to assist you with achieving optimal oral health! Dr. Keanna received his DDS from the Georgetown University School of Dentistry and has taken countless hours of continuing education in a wide range of fields. His practice is pleased to offer many available services, including tooth-colored fillings. If you have any questions about the article or would like to arrange a visit for you or a loved one, feel free to contact Dr. Keanna through his practice's website or over the phone for information or assistance: (505) 292-8533.