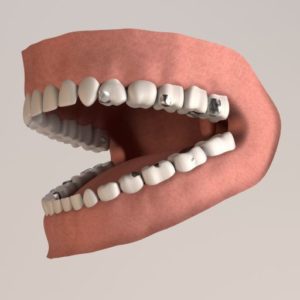 For generations, dentists relied on a material known as silver amalgam to fill in cavities. While amalgam can prevent decay from worsening, it has some big downsides, the most noteworthy of which is that it is composed of roughly 50% mercury, which is known to be incredibly toxic to humans. How can you protect yourself from overexposure to this harmful substance? By visiting a professional who practices mercury-safe dentistry.
No More Mercury Fillings
Mercury-safe dentists never place amalgam fillings. Even though official guidelines claim that such fillings pose little risk to human health, that isn't actually the case. Research has found that the more amalgam fillings an individual has, the more likely they are to experience symptoms of mercury poisoning, such as headaches and other neurological issues.
The good news is that the vast majority of dentists in the developed world have abandoned silver amalgam. Instead, they now use biocompatible, metal-free restorations made out of a composite resin material. The resin poses very little risk to humans. It is also the same color as teeth, so it appeals to image-conscious patients.
However, while it is encouraging to know that amalgam fillings are being fazed out of dentistry, it takes more than avoiding the use of mercury for a practice to be truly mercury-safe.
The Importance of Safe Mercury Removal
If you believe that your old mercury fillings might be threatening your health, you may choose to get them removed and replaced with a safer alternative. Before you book an appointment for amalgam removal, however, you should make sure that the dentist you choose has been trained to remove mercury fillings as safely as possible.
The consequences of not using proper precautions during mercury removal are quite serious. Throughout the process, tiny particles of mercury can escape into the air. Unless appropriate safety measures are used, this can lead to airborne levels of mercury that are several times what is considered to be safe and acceptable. Often, dental team members who work in offices where inadequate precautions are used suffer from problems with their central nervous system.
SMART Mercury Removal
Don't let the above information scare you too much. It is possible to remove amalgam fillings in a way that protects both patients and dental staff members. Try to find a dentist who is trained to use the SMART protocol. SMART is an acronym that stands for "safe mercury amalgam removal technique."
The SMART protocol involves a number of steps that aim to minimize humans' exposure to mercury vapor. For example, a rubber dam is used to isolate the teeth with the mercury fillings. Patients are also provided with a nasal mask that provides fresh oxygen. Protective gowns and other forms of PPE are used. The treatment rooms where mercury removal is performed should always have adequate ventilation and air filtration.
Mercury is toxic! Fortunately, it is quickly becoming a thing of the past, resulting in better oral and overall health for patients.
Meet the Practice
Dr. George Keanna is an experienced, highly educated holistic dentist in Albuquerque. Because he deeply cares about his patients' overall health, he uses the SMART protocol during mercury removal. To learn more about him and how he may be able to serve you, contact our team at 505-292-8533.